Jo Victoria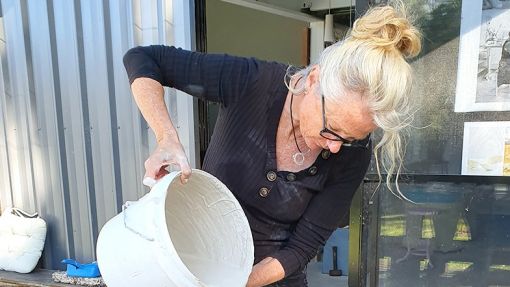 What medium do you work in?
Ceramics, Silver and Glass.
Where is your studio?
Mossy Point.
How long have you had your studio?
Just over 12 months.
Tell us what you love about your studio?
I have a light and airy shed over looking the garden that is a perfect place to feel inspired.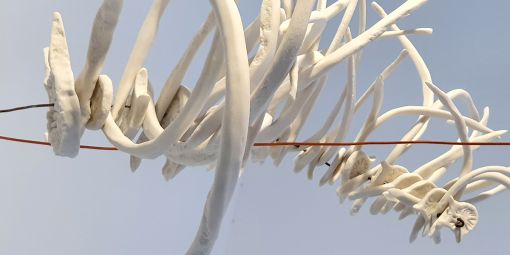 Tell us about the strangest object in your studio?
I am working on a human scale skeletal form that is currently hanging from the ceiling.
It is a piece entitled 'catastrophic', inspired by the bushfires. It was made for an exhibition in Sydney which was cancelled due to COVID-19 restrictions.
Tell us about the oldest object in your studio?
I am a great collector of bones and fossils and broken things washed up on the beaches, so who knows how old they are.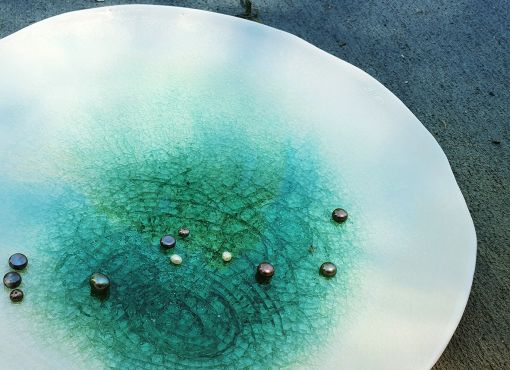 If you were stranded on a desert island, what one thing from your studio would you most like to have with you and why?
One of my large porcelain swirl platters, good for catching rain water or sitting under for shade.
Tell us about your art practice?
My work is inspired by the ocean and the natural environment where I live on the South Coast.
I work predominantly in unglazed porcelain because it has qualities similar to bleached bones and broken shells. It also has incredible translucent qualities that I use to create light fossil forms and sculptures.