Margaret Ainscow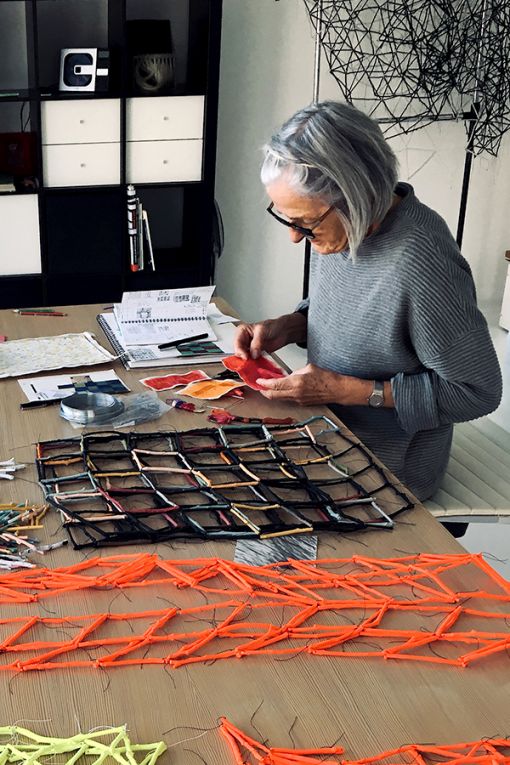 What medium do you work in?
As an art student I studied painting but eventually I headed a university art school textile course.
My art practice became a hybrid between paint, fabric and thread. On becoming a full-time artist, and living in various states,
I formed the view that my art should reflect some aspects of the place I am living in so I began to include found objects sourced from any surroundings.
Where is your studio?
I have a shared studio space with my partner, David Walker He has now moved out into his own studio and I am now refurbishing the previously shared space. It's great to have my own space but it's a work in progress.
How long have you had your studio?
I have occupied this studio for the 3 years since we built our home in Guerilla Bay.
Tell us what you love about your studio?
Sharing the studio has felt at times cramped to that my work has been restricted to fit the available space.
With a larger space I feel a sense of freedom that echoes the expansive views down the Eurobodalla coastline.
We are perched on a cliff above a small beach. The south wall of the studio is floor to ceiling glass and I can see Broulee Island and the coast beyond.
A little to the left through the windows of the living/dining area I see an expanse of ocean with Gulaga in the distant centre. It is breathtaking.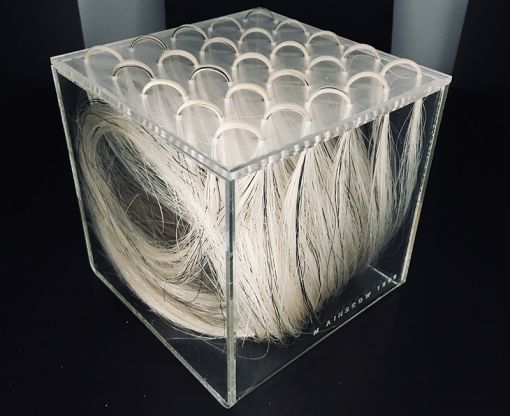 Tell us about the strangest object in your studio?
As a young woman I had dark hair with a distinctive patch of white hair above my forehead. I made 2 objects on the theme of "memento mori" that explored the idea of a symbolic self portrait about ageing in which I used horse hair to represent my own hair.
The first object used black horse hair with a small patch of white. The second object, the one illustrated, reversed this to signify the process of ageing.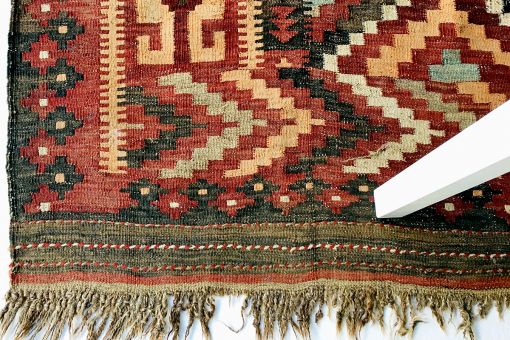 Tell us about the oldest object in your studio?
The studio's concrete floor is softened with a kilim rug inspired by a memorable 70's overland journey to Europe via Nepal, India, Pakistan, Afghanistan, Iran and Turkey. It has kept me company in my various studios ever since.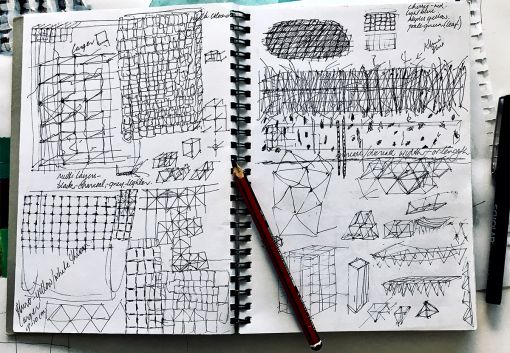 If you were stranded on a desert island, what one thing from your studio would you most like to have with you and why?
My sketchbook is the essential item for my dessert island stay. It is an integral part of my creative practice allowing me to record the minutia of my new surroundings and explore ideas that spring from the experience.
Tell us about your art practice?
Since moving from an urban to a regional location, my attention has turned to the natural environment and its vulnerability, and to the problems of human expansion and exploitation of the planet's resources.
In more recent works I have been influenced by the abundance of natural materials in my surroundings. This has lead me to explore ideas and forms that make use of found objects in combination with fibre and fabric to create sculptural works.
On the one hand my ideas comment on the erosion of nature in our environments and its fading influence in our lives and, on the other, to celebrate its life forces and powers of regeneration.