Merv Moriarty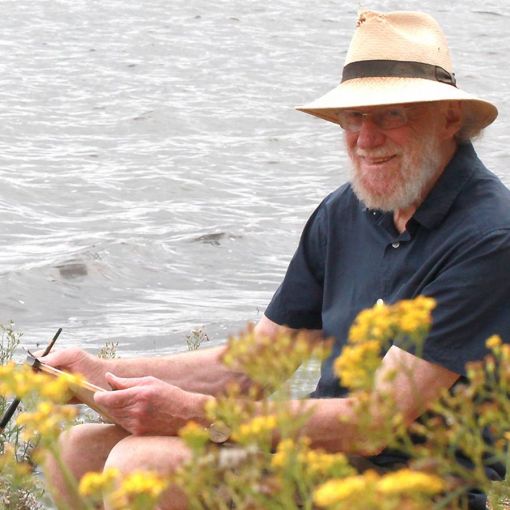 About Moriarty and his art practice.
Mervyn Moriarty was a prominent artist and an art teacher in Brisbane from the 1960s-80s. He was a major influence for the development of visual arts throughout Queensland, establishing the Brisbane Institute of Arts and the Flying Arts Alliance Inc. His legacy of support to the arts continues through these organisations.
During the 1960s Moriarty exhibited nationally alongside prominent Australian artists, Margaret Olley and Roy Churcher. Being shortlisted twice for the Archibald prize, Moriarty's work drew attention and he won the Johnsonian Club Award (1962) and the Captain Cook Bicentenary Art Award (1970).
Many of Moriarty's students are now recognised artists, art professionals and community leaders. Importantly, they give credit to Moriarty as inspiring and developing their art practice. For regional and remote students the experience of Moriarty's Flying Arts workshops was their first exposure to a serious art education.
Although it has been 45 years since Moriarty first flew to regional and remote Queensland, the arts community fondly remembers his influence.
The main influences and inspiration for Moriarty's art making.
Quote: "I am walking down the beach, a few minutes from home, toward the rocks at the base of Bourda headland. Every way I look from where I am there is a beauty (that is a form of truth) you can't deny. I know that I can trust the form that is in the subject".
The practical and conceptual affects on Moriarty's work.
I used to work from studies made in the field, reworked in the studio. One day I was looking at my paintings, I could see very clearly the studies had a truth and a freshness that was not there in the much more "worked" paintings.
So I resolved to work in the field and put up with gale force winds, trudging over the sand hills down to the beach carrying paints, easel, stool and stretched canvas, where the wonderful subjects of beach, rocks, wild sand hills and rocky and forested headland all hang out together.
View more about Merv Moriarty
If you would like a copy of Moriarty's resume contact Prue Acton: