Alison Bogg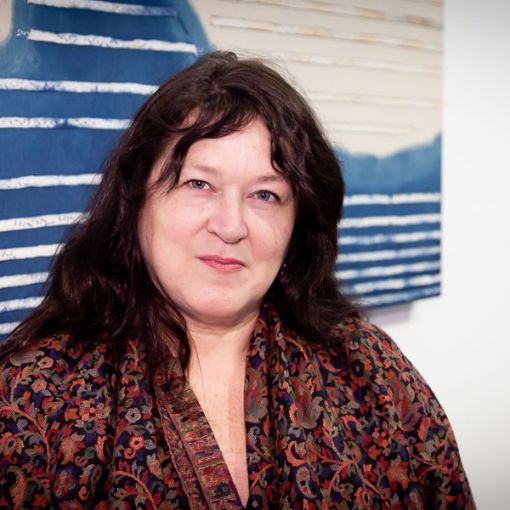 Tell us about your work in Shimmering the Mona Hessing tribute project and how it pays tribute to Mona Hessing.
Exploring Mona's textile forms, materials and colours has helped me map my own interpretation of her life's work. Three distinct elements spoke strongly to me:
Materials: her relationship to the fibres she used and allowing them to guide the work.
Place: her sense of place and connection to her surroundings at her home Shimmering in Tuross.
Journey: the mapping of her life, an 'endless journeying of the soul'.
In responding to these elements, a theme she had delved into inspired and guided my artistic exploration. 'Songlines – dreaming tracks, on land and water; a memory record.'
One work is a contemplation of the water and shimmering of Tuross, where she lived & worked. The other is a more emotional response to the power of the land. The bold strength in her work and her own determination to yield to the pull of her artistic endeavours and the materials she loved so much have been a great inspiration.
How long have you been working with fibre and textile to make art, and what has been your practical and conceptual approach to the medium.
Over the last 30 years I have in been involved in related areas of fibre and textile arts via my professional work in the performing arts in costume design, costume making, fabrication and art finishing.
I enjoy developing work that explores cross overs between wearable art, costume design, sculpture and painting. This has also grown from my involvement working with so many different visual mediums in theatre and events, ranging from large scale sculptural costumes to set painting and everything in between! I have always used dyeing and surface design techniques and I like experimenting with new ways of combining and incorporating these into my work.
Since joining EFTAG in 2014 I have extended my exploration of different techniques and inventive uses of different fibres and materials. Perhaps because of my theatrical soul, I also like to reflect on the connections that are made between the artist, artwork and audience, just as much as the making of the work.
View Alison's work