Amanda Fuller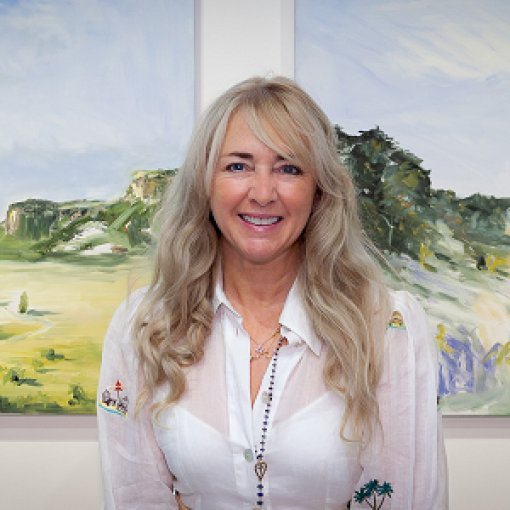 Tell us about yourself and your art practice.
Art was always my preferred subject however as so many of us did in the 1980s I chose the 'safer' option of teaching high school art as a career. I absolutely loved teaching and found this rewarding and inspiring albeit demanding.
My home/studio is on the Northern Beaches in Sydney. After teaching I decided it was time to focus on my practice and in 2015 completed a BFE in painting at the National Art School.
I have since travelled overseas for further art studies in Florence, Rome and Spain, and this broader outlook has influenced how I viewed my surrounding area on my return. Refocusing on my practice has been beneficial, developing on my time at NAS, which encouraged critical thinking.
Same same but different is a quirky title that doesn't give much away. Can you tell us what we should expect to see in this exhibition?
Dad and I have always loved to create and as I have gotten older I have realised there are a lot of passions that we share. We initially thought the exhibition would focus on this hedonistic pursuit of pleasure that creating is for us, but there needed to be a deeper connection that only revealed itself as the preparation for the exhibition progressed. There are subtle links in our work such as textural surfaces of the sculptures and my layered brushstrokes, our imagery inspired by natural forms as well our shared love for the Australian bush. Some of my paintings were inspired by the January fires in this area and my emotional response and concern for my parents' wellbeing. Other paintings directly reference road trips we have shared or places we have lived and the imagery is developed with my memory of these experiences.
You reference a metaphorical journey, the transience of life and the passing of time in your work. Can you tell us more about those ideas and how you have tried to capture them in your work?
I see my paintings as being partly self-referential, inspired by the particular surrounding, be it landscape or other, which evokes a particular sentiment. I immerse myself in the landscape and this ultimately leads to reflection on the transcience of life, grief and loss and the sensibility of life as a journey.
I like to spend this time alone and often utilise the path as a symbol. This can become a metaphorical journey representing a particular time, season and with an air of isolation that ultimately leads to reflection on the transience of life, grief and loss and the sensibility of life as a journey.
Another facet of influence for this exhibition was reflecting on both our (Terry and my) experience and that we have both come to a deeper understanding, depth and contentment in our lives.
This is a two person exhibition with your father. Can you tell us about the process of putting this exhibition together, and what influences he has had on your work for this exhibition and in general?
As a starting point we discussed a proposal and the difficulties incorporating the two mediums and found a shared vision. The challenges of distance and the trials of this year with fires/COVID isolation etc. have made meetings difficult, but we found sending images to each other helped with the production process. I can definitely attribute my chosen genre of landscape painting to our wonderful road trips, adventures camping and exploring off road areas of Australia. I re-conceived past imagery collected from locations we explored together, but relied on the memories to permeate the landscape. I am inspired by my father's skills and ability to manipulate several mediums to explore his vision.
View Amanda's work