Ken Searle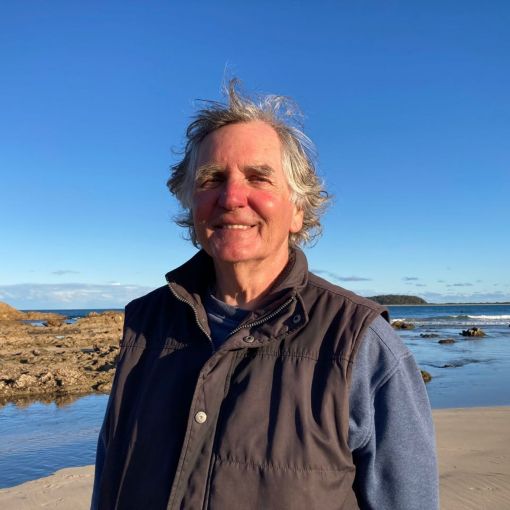 You are mainly known as a painter of urban and industrial landscapes. How did the exhibition Broulee: A Walk come about?
While the title Broulee: A Walk expresses my usual process of walking into the landscape of my paintings, it also reflects the relaxed nature of this particular series of painting and drawings.
I have been regularly visiting Broulee over the last decade, in winter as well as summer. Although I was on holiday, I spent my time as I like to do — exploring the landscape on foot and by eye, and then sketching on site what I was discovering — sometimes in oil paint, sometimes in pencil or charcoal.
As always, while I am sketching, the sounds and smells of the place seep into the images. As well, I often pick up interpretations of the place from the people who live in the area. For example, while sitting for three consecutive days painting Mossy Point, I had conversations with locals of all ages, from surfboard riders to retirees.
Other discoveries happen by chance. One day, when a sudden downpour caused me to seek refuge in a cave, the rocks gave me the composition for 'Underworld'.
While I was making these initial explorations, I had no intention of ever showing the images. But in early 2022, I realised to my surprise that the work added up to a show. At that point I began composing some of the larger paintings in my Sydney studio, but most of the work on exhibition (including all the works on paper) was done on site.
What can the audience expect to see in your upcoming exhibition?
In the short coastal strip between Guerilla Bay and South Broulee Beach, the first thing we notice is the connection between sea and land, and between sea and sky. Large elements of topography — headlands, island, river, creek and lagoon — also catch the eye. Yet when we look down, we might also see an echidna walking across the beach, or a necklace of seaweed, or the history of the Black Summer bushfires in the 'handwriting' left by an outgoing tide.
As well as the coastal part of the walk, I show something of the hinterland: the 'suburb' of Broulee where locals live throughout the year, and Canberrans make their escapes from the national capital.
When I depict an area, people often comment on how they find in the work familiar things that they suddenly see in a new way. The cause is in part the juxtaposition of images, but it is also due to the sense of value put upon a place by the fact that someone has spent time expressing it in paint or charcoal, or good old HB pencil.
I hope that south coast locals enjoy walking around these images as much as I enjoyed walking into this landscape.
See more of Ken's work