Stephanie Simko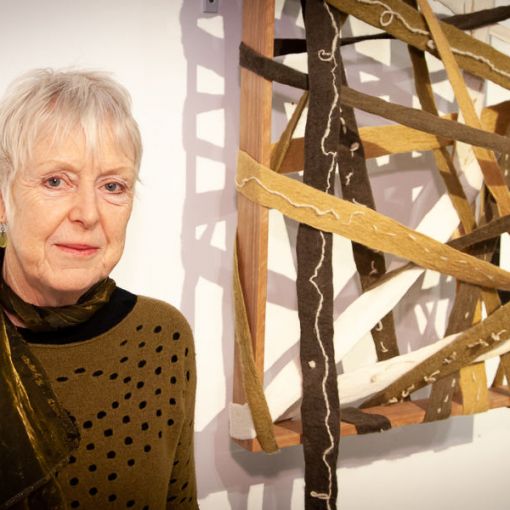 Tell us about your work in Shimmering the Mona Hessing tribute project and how it pays tribute to Mona Hessing.
Inspired by Mona Hessing's description of her life and work as an interior designer and weaver in the 1972 interview with Hazel De Berg, I decided to explore and experiment with some of the ideas discussed.
This included: using a limited palette of materials, minimal equipment, undertaking my own dyeing, using tones of a single colour and to incorporate some fibre from Mona's collection.
I was further inspired by a visit to Mona's derelict studio by the lake in Tuross Head, where the light streamed through the broken window frames creating patterns on all surfaces.
The studio sat beside a large majestic spotty gum tree. Mona acknowledged that she was an introvert with a rich inner life, she enjoyed working alone and found being in contact with people exhausting.
The artworks larger timber frame represents her private life and the smaller one her public life and can be seen as both windows to her studio and life. The felt band weaves these two realms together. The stitching of her fibers on the felt marks life's journey; a thread with starts and stops, twists and turns, but one that flows. The use of spotty gum leaves for dyeing and the timber for the frame pays homage to the tree beside her studio.
How long have you been working with fibre and textile to make art, and what has been your practical and conceptual approach to the medium.
When I moved to the south coast in 2015 I began creating artwork through the exploration of new ideas, different materials and techniques, including felting, lino print, collage, stitch, drawing and painting. My wearable art pieces are often created from recycled materials.
My background in interior design influences both my textile and sculptural work through the exploration and juxtaposition of form, light, colour and space. I'm inspired by the natural and urban environment and my love of travel further stimulates ideas.
I also enjoy responding to a brief which may be a single word or a subject as is the case for this Exhibition. I enjoy research and tend to contemplate a subject for a while, exploring ideas, developing one and seeing where it leads.
Stephanie lives in Meringo.
View Stephanie's work