Roslyn Holmes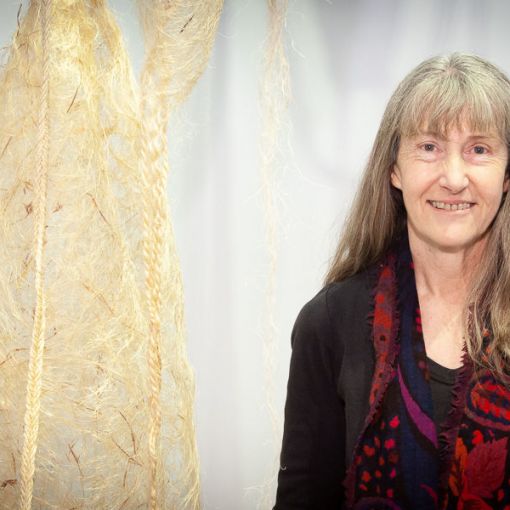 Tell us about your work in Shimmering the Mona Hessing tribute project and how it pays tribute to Mona Hessing.
The creation of my work Transference has evolved through playing with donated materials from Mona's studio, listening to her voice in podcasts, and looking at her work.
I have chosen to work with Mona's natural sisal nine strand plaited rope and have come to love this strong and resilient material which when deconstructed to individual fibres becomes very fragile.
It litters my studio and home and blows away on the wind. It encapsulates raw feelings of threat, exposure and the unknown, a reflection of the horrific Summer just experienced.
Mona's work is architectural and the relationship to the space around it is very important. To honour Mona her rope starts at the ceiling, becoming the protective and transparent cocoons that have collected grass, seeds, feathers and singed leaves from the hill on my property. The forms are related to each other and are connected to the space with the rope falling to the floor.
How long have you been working with fibre and textile to make art, and what has been your practical and conceptual approach to the medium.
My interest in weaving plant material began when I moved to acreage at North Batemans Bay 15 years ago. It was there that I discovered the diverse and flexible plants growing on the property; sprawling Hardenbergia, Lomandra, Kennedia and beautiful native grasses such as the tall and elegant Kangaroo grass.
My forms, previously made from clay, morphed into larger textural pieces using vines and plant material. I began introducing other found materials into the forms. Used tarlatan cloth and etchings on rag paper from my print studio, feathers, linen rope, beach plastic, driftwood, seedpods, shells, Telstra wire and discarded electrical cords. The forms could be large, solid and dense, small, rough, smooth, and transparent depending on the materials and construction.
I have become a bowerbird, searching the landscape for any usable material. These materials inform the work of place and hold memory.
Roslyn lives in North Batemans Bay.
View Roslyn's work