Stephanie McClory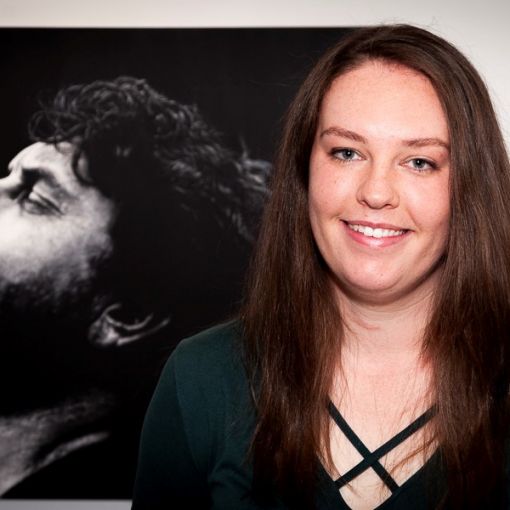 Tell us about the title of your 2020 exhibition, Hidden, why you chose it and how it relates to the subjects portrayed in your works.
The title Hidden was chosen as it could encompass the theme of hidden thoughts, hidden emotions and hidden meanings throughout the artworks.
Most of the artworks capture moments of vulnerability that can quite often be hidden from the people around us. The artworks utilise a minimalist background so the focus of the image remains on the subject and the emotion it's capturing.
The simplistic surroundings do not distract or lead the viewer. What is happening within the artworks is left hidden, it doesn't show the whole picture which can be interpreted as a reflection on life – you see people every day and you don't know what can be truly happening in their lives. This allows the viewer to come to their own conclusions about the meaning or situations of the pieces. Their interpretation will be influenced by their own emotions, experiences and life challenges.
As the first Eurobodalla Prize winner of the Basil Sellers Art Prize, can you tell us what winning this prize has meant for your practice?
It's been an honour to have won this prize. I would never have imagined or felt like I could have even attempted to try and have my own solo exhibition at this stage in my life.
This opportunity has encouraged me to make art a bigger priority in my life again. I did art in high school but I had found it difficult to fit it in while studying at university and now working full time.
This whole process has been quite a learning curve and I've been able to see aspects of my painting techniques evolve. I've taught myself how to create a time-lapse video, something I've always thought about doing but never pushed myself to complete. I've had to consider the other aspects involved in completing an exhibition aside from the artworks themselves and I have learnt from those processes too.
This is your first solo exhibition, can you tell us a bit about the process of putting a coherent body of work together and what surprises and challenges you have faced?
Honestly it's been very challenging, there's been a large time pressure throughout this whole process. I work full time which left me with the weekends and after work to paint/draw. It's been like I've worked seven days a week for the last year.
One large challenge was changing the concept of the exhibition after the first meeting and trying to establish a coherent theme. This meant that the artworks created in 2019 were no longer suitable for the exhibition. This change meant I was to focus on creating more complex and time consuming art pieces. I questioned if I would be able to create enough artworks to fill the space but I have surprised myself in what I have managed to achieve.
The process involved coming up with concepts, completing and editing photoshoots, and then creating the artworks.
There's also been the added challenges and stresses associated with the bushfires and COVID.
Can you tell us about how your full time career as a physiotherapist has influenced your art practice?
As a physiotherapist in the hospital I work very closely with people on a daily basis. I see patients in some of their most vulnerable and sensitive states, and witness a variety of emotions daily. I also see the side of how emotionally and physically demanding it is to be a health care professional, across all the disciplines. My profession and work environment may be something that has unconsciously played a role in the subject matter that I create. I can use my skills as an artist to show the different emotions that people can go through at different times in their life, from the good to the bad.
View Stephanie's work