Cathie Griffith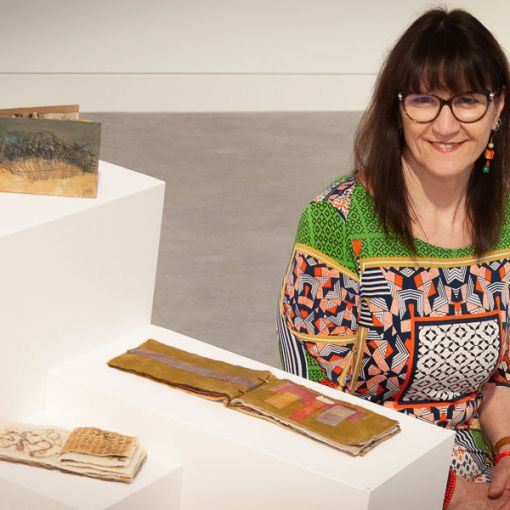 Tell us about your work in Shimmering the Mona Hessing tribute project and how it pays tribute to Mona Hessing.
I was first introduced to Mona Hessing through an offer to work with her fibres.
After researching her career as one of Australia's leading fibre artists, I found I identified with the way that Mona worked which had similarities to my own making methods.
Mona primarily worked alone and in a simple manner, allowing the materials to dictate the pace.
She had a notion of the feeling she would like her works to create and often constructed them in segments and collaged these together into larger pieces.
For this exhibition I have chosen to make works that I hope will reflect both Mona's creative philosophy and her methods. The books have been made using recycled and hand-dyed papers and fabrics, conveying an atmosphere of quiet creativity and reflecting the earthy colours of Mona's fibres. The sculpture has been created in modular units, as Mona did, using a variety of techniques and fibres, and assembled together into this larger work.
How long have you been working with fibre and textile to make art, and what has been your practical and conceptual approach to the medium.
I have been a creator since I was a small child and was always encouraged to 'make'. My move into fibre and mixed media arts did not take place until later in my life when I had more time to devote to my creative pursuits.
I see myself primarily as a storyteller. My art practice focuses on my experiences as I interact with the world, the people I meet and their stories. Initially, my works may have origins in my own personal history, but I hope others will look into the work and find a story of their own.
With a love of design, my work explores line, pattern, texture and colour. As a dedicated recycler of materials, I look to include items that others discard. I see value in these cast-off objects where others may not and often they become an integral part of, or containers for my art works.
View Cathie's work