Julie Brennan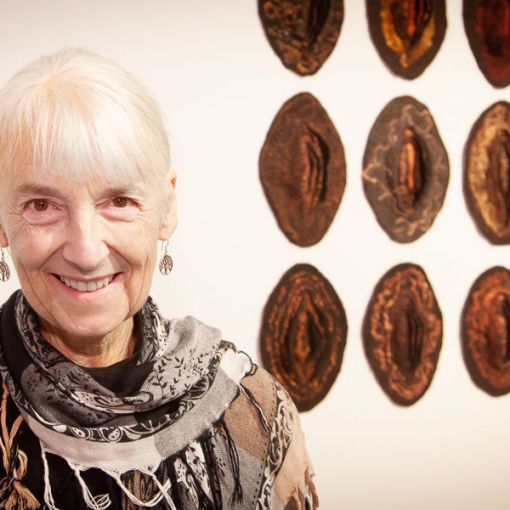 Tell us about your work in Shimmering the Mona Hessing tribute project and how it pays tribute to Mona Hessing.
Mona's passion for exploring a range of fibres inspired Dare to be Different, which uses a wide variety of fibres, textiles and techniques, to highlight the beauty of uniqueness and diversity, a piece that explores the issue of female genital cosmetic surgery.
It also inspired the incorporation of her sisal, a fibre I haven't used in my felt work before, into the Season of Fire cocoon, albeit 'reconstructed' and in an innovative way.
Whilst the constraints of my medium prevent me from working totally ad lib as Mona did, her rejection of rigid planning, and her openness to allowing the materials to guide the evolution of her work, have given me a wonderful sense of freedom. Mona has increased my confidence in my own practice of 'listening' and responding to the behaviour of the materials as a piece evolves, and allowing a new direction to emerge, as happened in Generation: Regeneration. This piece began as an exploration into the transformation to motherhood, symbolised by birth itself, and 'morphed' to include contemplation of the coming regeneration, or rebirth, of the bush following the fire that burned through our property in January 2020.
How long have you been working with fibre and textile to make art, and what has been your practical and conceptual approach to the medium.
After a foray into fibre in the late seventies, a long hiatus ensued before my passion was re-ignited in 2006, when I joined EFTAG, and discovered felt-making. I was attracted by felt's sculptural possibilities, its versatility, and history.
Workshops with excellent Australian and international tutors over the past 20 years have developed my knowledge and skills and given me a repertoire of techniques from which to draw. EFTAG has provided a nurturing and stimulating environment in which to grow as an artist. Feltmaking requires some planning: such as calculating shrinkage, and checking 'feltability' of materials. However it is full of surprises and flexibility, openness and resourcefulness are vital. I enjoy incorporating other textile-related techniques into my felt work, as well as working with recycled materials and found objects.
I love working conceptually. Working with ideas stimulates and challenges me. It engages my intellect, emotions and imagination. My work may be serious, or quirky and playful. Sources of inspiration include nature, political issues, wordplay, and life experience.
View Julie's work