Mischi West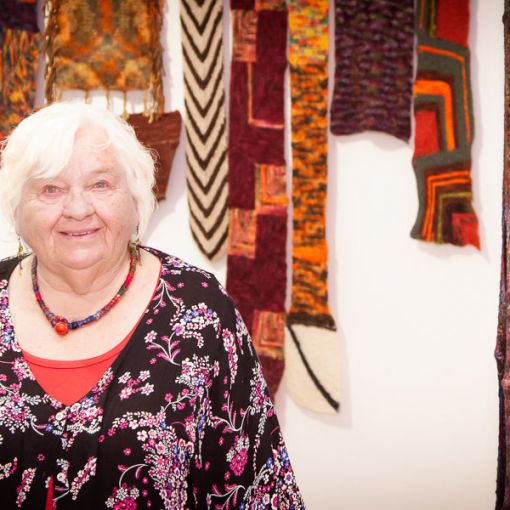 Tell us about your work in Shimmering the Mona Hessing tribute project and how it pays tribute to Mona Hessing.
Mona often created works inspired by and designed for architectural spaces. I have been drawn to that wholistic approach of creating textile pieces that fit within human built environments. Mona's work is mainly woven whilst and my strength is in knitting, felting and dying.
The two works in this exhibition are derived from and guided by Mona's sense of space and my own sense for colour and texture. They are an ode to Mona.
Homage is a huge suspended knitted sculpture with hand dyed wool. It took 7 months to create and I let it grow as it guided me. It relates to Mona's work that often touched the ground and in that it also includes spun and un-spun fibre.
Gathering is stylistically my own work but was knitted in components as Mona's work often was. It references Mona's colours preferences and uses some hand-spun fibre from her time in India. It symbolises the gathering of women coming together to create this exhibition.
How long have you been working with fibre and textile to make art, and what has been your practical and conceptual approach to the medium.
My love and fascination with textiles started at a very young age when women of my village in Bavaria would rip up old clothes to turn them in to colourful floor rugs for the winter.
I have been a spinner, weaver and knitter for 50+ years. My passion for textiles has evolved to include indigo and shibori dying, eco printing, needle felting, felting, textile piecing and textile sculpture.
I derive inspiration from the environment I live in and the material at hand. I let it take its own path and am guided by it, rather than imposing my will upon it. As an artist I follow my own instinct in colour and technique that has developed over many years of practice.
I am a founding member of EFTAG (Eurobodalla Fibre and Textile Artist Group). The group was started for and by local textile artists who were looking to push the boundaries of conventional textile art and craft.
Mischi lives in Tuross Head
View Mischi's work