Natalie Bateman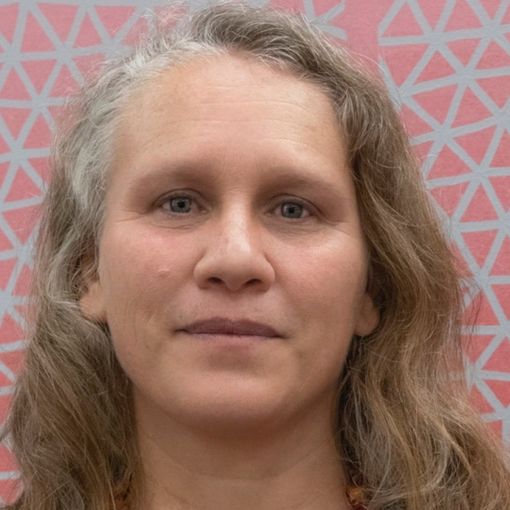 Tell us about your practice
I am a Walbanja-Yuin woman who loves expressing through art. I am a self-taught, full-time painter using acrylics and watercolours.
The kitchen table is my studio, painting around the hustle and bustle of children and every day living.
I love painting in vibrant and uplifting colours. I have found my style in triangles, steering away from 'dot' art. Triangles and line work are traditional Yuin art. I have produced graphic design work, murals and facilitated art workshops and commissions.
My painting is about the land in Yuin country.
What have been the main influences on and inspiration for your art making?
My family. My country. The ocean. Life. Everyday living. The animals, night sky, the sun and moon. Loving life.
What effects have these had on your work, both practically and conceptually?
These influences create moods, feelings, emotions, excitement, energy and perception – all these things give me ideas to create and make art.
What can the audience expect to see in your upcoming exhibition?
In this exhibition there are lots of patterns. Abstract, colourful vibrant paintings.
What have you been working on over the past 12 months?
In the last year I have been extremely busy with the following projects:
design the 'Ella-Mobbs trophy' for the Australian and English Rugby Union
work with Australian National University School of Arts and Design as a cultural facilitator in Eden
mural for Australian National University School of Arts and Design
commissions for the Southern NSW Local Health District, University of Wollongong, NGH Consultancy, Bega and the Australian Children's Education & Care Quality Authority, Sydney.
artworks for the new Acute Emergency Department, Prince of Wales Hospital, Randwick, the hospital for Canberra Health Service and Canberra Mental Health, youth ward
exhibit at Blenheim House, Randwick Council and Blak Markets, La Perouse
prepare for an upcoming exhibition at Tuggeranong Arts Centre, ACT.
Preview of work