Julie Armstrong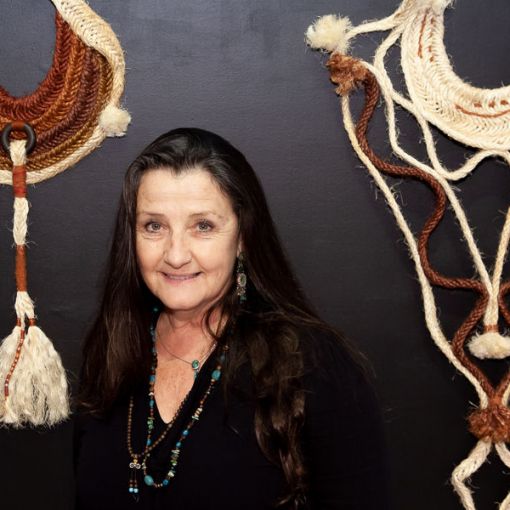 Tell us about your work in Shimmering the Mona Hessing tribute project and how it pays tribute to Mona Hessing
The Sense of Place and Honour bowls series are personal tributes to my connection to Mona and a reflection of my deep respect for cultural connections to place. My work aims to reflect the sacred, respectful and natural aspects of interdependence, connectivity, fluidity and movement between all things.
Mona's life, materials, voice, and her connections to place and culture have inspired me to make these series in honour of her.
I have used Earth tones, sumptuous silks and rough textiles that both contrast and intertwine, reflecting the interconnected pathways of life.
Mona's gifts and inspiration are multifaceted; she was a woman of her times, a creator, a pioneering textile artist rising during the 60s & 70s, embracing life passionately and creatively. The spirit of her materials and works all resonate with her voice, influenced by her travels through India, her multicultural awareness, and by nature itself as an artwork.
How long have you been working with fibre and textile to make art, and what has been your practical and conceptual approach to the medium.
I grew up within a family of makers: seamstresses, shipwrights, carpenters, photographers, and painters. So, I too am a maker with an innate love of colour, design and a creative passion that is backed by my philosophy that every day is an adventure of discovery!
Undoubtedly, my family heritage influenced my love of creating from an early age and fueled my fascination with fabulous textiles, textures, the discovery and repurposing of pre-loved treasures, as well as an appreciation of quirky or natural found objects. I have always delighted in 'playing', exploring, experimenting and combining techniques within a myriad of mediums. I love combining colours, textures, natural fibres, recycled and found objects to deliver a story, a sense of fun, or to make a social statement.
My inspiration is drawn from within my life, the people I meet, global cultures, history, music and stories as well as the natural and built environments.
View Julie's work