Prue Acton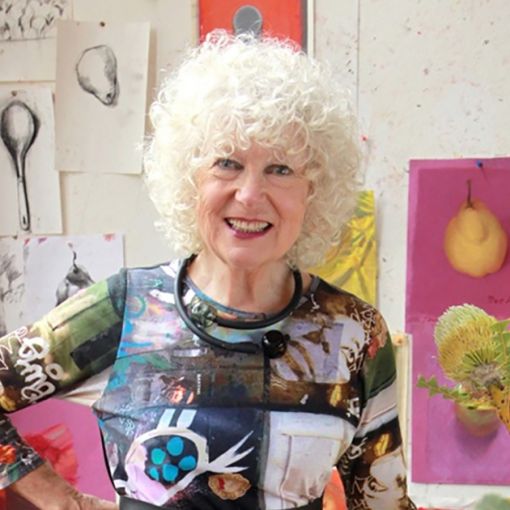 Tell us about your art practice and the works in your exhibition?
I am a colourist. Subjects like flowers and fruit, the handcrafted vessels central to our domestic lives, bridge the aesthetic space between environment and human lives.
Implementing the knowledge I have acquired to recreate coloured light in the viewers' eye, I use soft pastels on fine-sanded prepared paper surfaces and for yellow colours I use of pure pigment with no oil.
What have been the main influences on and inspiration for your art making?
I am country born from a pastoralist's landscape, I loved my time with my grandmother, picking flowers,and collecting fruit and veggies from her garden. I watched her bake, set her dining table, she also taught female cousins and I how to sew, knit and crochet.
I fell in love with Matisse's great masterpiece The Dessert: harmony in red (The red room), 1908. At fifteen I began my four-year training at the Royal Melbourne School of Art, the most important subject I studied was life drawing.
I found a master visual artist and educator, Merv Moriarty, who finally answered the 'why?' to my questions of colour and art.
Several exhibition and many decades later, my vision continues to explore the clear light of the Monaro, soft light of the far south coast, my growing understanding of human vision and the application of the modern colour wheel and colour relationship.
I have an appreciation for the perspective of natural beauty. Through this appreciation I continue to make art, write about colour and hold workshops.
What effects have these had on your work, both practically and conceptually?
During lock-down, I immersed myself in the beauty of nature, painting in the studio designed by Merv and I, located at Wallagoot Lake on the far south coast of New South Wales.
I now live in the clear light of my home state country Victoria, I plan to return to the east coast as often as I can.
View Prue Acton's work