Kurt Sorensen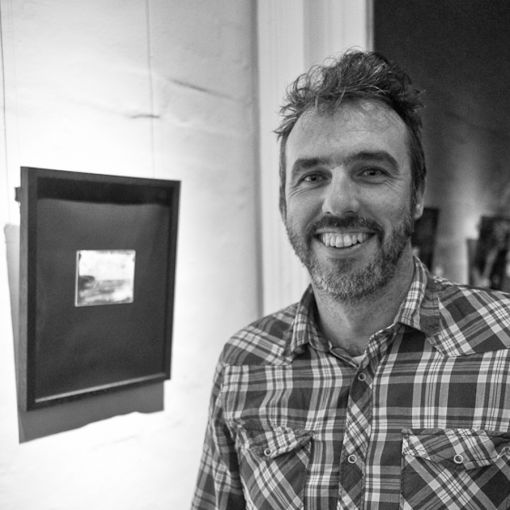 Tell us about your art practice and the works in your exhibition, A Strange Occurrence.
I am a photographic artist, predominately working in creating landscape images. These images are inspired by strange, forgotten historical events from Australia's colonised past. I work with traditional film, although I am not opposed to digital, I feel both mediums have their place. The imperfect effects of alchemical in the traditional film and print process suit how I create my work.
A Strange Occurrence exhibition was created at Mystery Bay and was inspired by the disappearance of 5 men in October 1880. The images in the series reflect the events that occurred on the day and subsequent sightings, theories, and accusations around their disappearance. The exhibit captures these theories and accusations and how this event impacted the area. I'm not interested in the truth of what occurred in the stories, but more the impacts the mysteries have in the areas ghostly past.
What have been the main influences on and inspiration for your art making?
In a photographic sense if I have a hero, it would be Sally Mann. Her work, particularly the series 'Deep South', continues to be a huge point of reference for me. After several thousand views, her work remains breathtakingly dark, and is created solely within the confines of her home in Virginia USA. Themes including the impacts of history, death and what it means to be from and of a place. Sally's photography is visceral, beautiful and vital and depicts the landscape as a character.
Artists that have inspired me are, Anne Ferran, Hiroshi Sugimoto, Tracey Moffatt, Robert Frank, Bill Henson and Ansel Adams. More recently I discovered my love for the work by Finnish artist Maria Lax.
Main influences on my work are not solely photographical but also musical, cinematic, literary and historical. Films by Sergio Leone, the Ozploitation era, Kurosawa and John Hillcoat. Music by Will Oldham, Odetta, Silver Jews to the Coltrane's and beyond. Books by Cormac McCarthy and various authors of Australian history and anthropology such as Henry Reynolds, Bruce Pascoe and Bill Gammage, among others.
What effects have these had on your work both practically and conceptually?
At school my interests were reading, music and history, not visual arts. Australian colonial history and European occupation was of particular interest. In my 20's I went to see an exhibition on 20th Century photography at the Museum of Contemporary Art in Sydney. This is where I encountered the works of the above mentioned artists.
Seeing these works for the first time gave me that feeling in your stomach you get when you first fall in love, which is a similar feeling to the one you get in your stomach after you eat a bad potato salad. This is apt because I remember feeling incredibly excited about what I was seeing, falling in love with photography, but also feeling sick and frustrated I had wasted so much time being uninterested in photography. I quit my full-time job, moved from the suburbs to an inner city share house and signed up to art school the same year. Thus becoming the cliched, art school, inner city 20 something year old.
Upon completing art school I read Fatal Shore by Robert Hughes. A book about a searing and somewhat embellished account of Australia's early colonial history. Combining the strange, mythical and often forgotten historical stories of the past, I was inspired to create photographs that connected with the narrative. Since this time I continue to create images based on mythical stories I read. My practice has expanded into deeper considerations of the Australian landscape and the influence it has had on the European colonists' psyche. Resulting in a broader understanding of Australian post colonisation history and the inescapable impacts of the violence involved.
View Kurt's work