Lorna Crane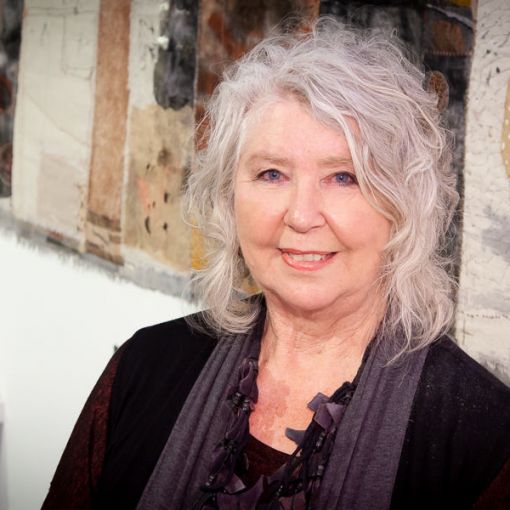 Tell us about your work in Shimmering the Mona Hessing tribute project and how it pays tribute to Mona Hessing.
The Fragile Earth series of works chronicles a period of time in lockdown during the recent mega fire season.
It wasn't what I had thought I would make for this exhibition but it became more about the impact it had on the environment and the wave of deeply felt emotions that punctuated the eight week period.
Working with earth tones in a raw and rudimentary approach, this narrative explores times of lightness and of darkness that are then cut and reshaped as a type of memory mapping, a record 'of this time and place'.
The Petites are a series of 21 hand-coiled vessels represented as containers of hope and courage using Hessing's donated materials.
It was from the Mona Hessing Trove interview by Hazel de Berg (1972) where Mona words resonated with me. Speaking about her process of working and her need to work in isolation, where 'out of isolation you reflect on your past and move forward with huge learning curves'. Plus that as an artist for her, there was always that instinctual need to make and shape as an honest activity and that by 'letting the materials speak' the work evolves over a period of time as the essential part of the creative process.
How long have you been working with fibre and textile to make art, and what has been your practical and conceptual approach to the medium.
As a painting major with printmaking and textiles as my secondaries at art school in the '80's fibre has been an intrinsic part of my life as an artist for many years. In the mid '90s I was invited into a selected exhibition called Swanky Hankies for a Textiles Symposium in Canberra, this has experience challenged my approach to fibre ever since.
Fibre for me has that intrinsic connection to the human condition and the environment. It holds memories that touch the soul but also there is the tactile, textural quality that resonates so much for me as an artist today. My landscape inspired works are process driven and speak about 'place and identity' with a strong connection to my local environment.
The conceptual approach at present is investigating the language of materiality and how the push and pull of materials can create a narrative for the viewer. Where the materials speak in an intrinsic and authentic manner. This more experimental, process driven approach follows on from the past six years of exploring visual language through mark making and drawing.
View Lorna's work